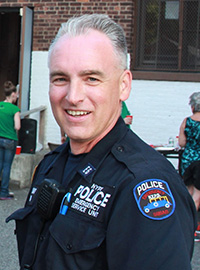 The NYPD Emerald Society mourns the passing of our longtime member retired Detective Christian Lindsay on Sunday February 12, 2017. Chris was 48 years of age at the time of his passing and in hospice care at Calvary Hospital, in the Bronx. Shortly after his retirement from ESS-6 he was diagnosed with malignant melanoma leading to the beginning of a challenging regimen of cancer treatment. In the past month Chris was admitted to Calvary Hospital, where his wife Maureen and his mother Joyce maintained a near constant vigil at his bedside. On a daily basis countless friends came to visit Chris, many in recent days were from his first command the 84th Precinct. His brothers in blue from Emergency Service both retired and active, cops and bosses were always arriving at his fifth floor room. All those who came by to see their old friend were warmly and graciously greeted by Maureen and Joyce during such a trying time for them both. Their devotion to Chris was something very special to witness.
Chris Lindsay was born and raised in Brooklyn, as a young man he joined the US Army and went on to serve his tour of duty in Germany. He was honorably discharged then later on he joined the National Guard. In 1990 he was sworn into the NYPD and he tried his best to allay his Mom's worries about her son's safety while fighting crime in NYC. Chris was a fast learner and a man of integrity. He spent his early years in the 84th Precinct and was known for his cool manner and maturity always doing the right thing. It was while at the downtown Brooklyn Pct. that the young veteran Officer Lindsay would meet the young rookie officer Maureen. They would later marry in 1999 and become partners for life. After the terrorist attack of September 11, 2001 Chris was activated to duty with his National Guard Unit. He was assigned to duties at the destroyed World Trade Center site. Ground Zero was in carnage and the downtown location was a smoldering smoked filled zone for months. Through those darkest days in our country's history Chris stoically went about his work doing whatever he could do, as the city and nation tried to recover. When he rejoined the NYPD he was later rewarded for his exceptional police work with a transfer to ESU in 2002 and assigned to 6-Truck in Brooklyn. While in training at ESU he climbed to the Manhattan tower of the Brooklyn Bridge, when he got to the top he was so happy and proud he called Maureen with his cell phone and she recalled he sounded like he was the happiest person in the world. He found his true calling when he became an E-man. At 6-Truck he found a home where his character and commitment was recognized by the colleagues and supervisors he worked with. Chris could always be relied upon as the guy who could get the job done right without any fanfare.
The Lindsay's shared many good times with their friends in the Emerald Society. Chris and Maureen attended many of our events, his broad smile and great laugh were commonplace at our Winter Weekends, ballgames in Coney Island and Army football games. Chris proudly wore an Army tee-shirt while at the games in West Point.
In November 2015 after more than a dozen years in ESU and a total of 25 years of service, the highly regarded Detective Chris Lindsay retired from the NYPD. His plans for travels with Maureen, golf and a possible move south were soon disrupted as he became ill. But Chris was a fighter and determined to win his battle. He faithfully complied with doctor's orders as long as he could. At his last Emerald Society event Chris and Maureen attended the Pipe Band's 9/11 Memorial Concert at Town Hall. He enjoyed the great night of tribute remembering those we lost in 2001 and all the patriotism that was displayed that night. With Maureen beside him he was all smiles in spite of the tough time he was going through. In the last couple of months it became apparent that Chris was not going to win the cancer battle he so strongly fought. Over the last few weeks as his life gradually shut down, there was an extraordinary outpouring of support by so many visitors. Chris Lindsay was a man who lived his life always guided by his morals and beliefs, he was truly a gentleman of the highest integrity. God blessed him with two loving women and loyal women, his mother Joyce and his wife Maureen. Fidelis ad Mortem.
WAKE
Wednesday, February 15, 2017 and Thursday, February 16, 2017
Viewing: 1400 - 1600 hrs & 1900 - 2100 hrs
T.J. McGowan Sons Funeral Home
71 North Central Highway
Garnerville, New York 10923
(845) 429-6665

MASS
Friday, February 17, 2017 at 1000 hrs
Immaculate Conception R.C. Church
26 John Street
Stony Point, New York 10980
(845) 786-2742